The Echo Park Primitive Campsite And Trail.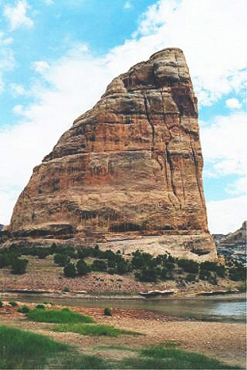 Dinosaur National Monument
"The Lions Breath"


Of many areas to kick back and relax in Northern Utah that have both hiking and camping - the "Echo Park Campground" is a perennial favorite. The site is primitive and without aircraft noise, streetpoles, and obtrusive lighting. Enjoying a view of the silhouettes of nearby cliffs at night and distant stars is possible because of the remoteness of the area from large cities and highways. Watching the moon rise over the cliffs at night is soothing to the soul. The "Echo Park Trail" (actually an unnamed trail - shown above) - appears much more forbidding than it really is. On the trail you will see unobstructed views of distant terrain or views of the rivers below. Turn and look right (south) and you will see a nice view of "Steamboat Rock" (image at top right). The rock is situated at the confluence of the "Yampa River" and the "Green River". During warmer months rafters can often be seen - but not heard - from some locations in Dinosaur National Monument. The scenic spots shown were only a short distance from the trailhead. The campground has large sites - some of which are shaded. Note: Photo at top of page3.html (the tan page) is of "Harpers Corner" - a short mile long hike.
(List Page For Desktops)