Black Canyon-A Place You May Wish To Return To.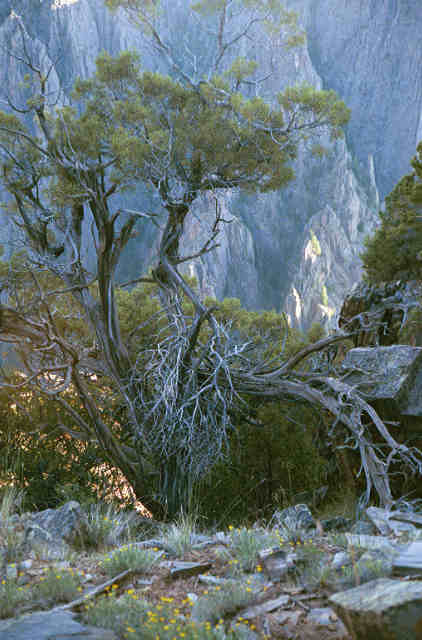 Trails, Tranquility----and The Rim.

NORTH VERSUS SOUTH
The "South Rim Campground" appears to be where most of the large R.V.'s and family campers stay.The "East Portal Campground",accessable from the Canyons south rim , is located down at the bottom of the canyon.The drive to the bottom of the canyon is an "extremely"steep grade-off limits to large R.V.'s.It draws family and group campers.The campground is very heavily shaded. -Roads- There are many exquisit viewpoints along the "South Rim Road" that are comparable to the North Rims main scenic drive -but -since the South Rim is higher in elevation ,the viewpoints across the Canyon as viewed from its North Rim looking south ,seemed slightly more impressive to me.-Trails-The south rims"Warner Point trail"-an easy trail (although it is listed as being a harder trail to hike) is a short 1½ mile round trip .Although it isn't too challenging a hike , it is worth going on because it has some very impressive scenery.The view at the end of it seems to be the most impressive spot of all! Regardless of which rim is more suitable to your needs this National Park is a 5 star site! I feel that this park is one of the crown jewels of our country and of the entire continent. As for which rim I prefer-"I'll take the North".