Black Canyon of The Gunnison National Park.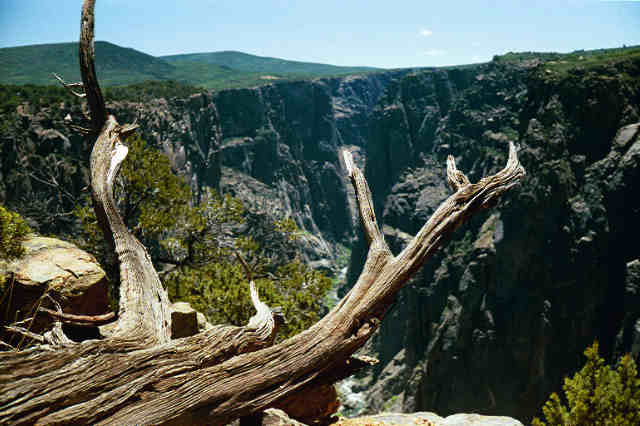 Small Park Is One Of Americas Most Unique Spots.

Just one quick look into this canyon and you will know what makes this relatively small area one of the most beautiful National Parks in our country. Peering across this narrow canyon , & looking at its narrow inner walls ,or standing on its rim , looking down at the canyons floor,and you will realize just how colorful ,steep ,and narrow it really is!Of many trails, my favorite was the " North Vista Trail ".The first 10 miles of this 30 mile trail ( a 7 mile round trip hike) will take you to " Exclamation Point "-a moderate hike.The view into the canyons interior from this scenic vista is one of the most spectacular and colorful sites I have ever seen .It is really exquisit and pleasing to the eyes.After Exclamation point ,the trail continues for another 2 miles and begins ascending to a scenic overlook .The first mile of this ascent and you realize the trail has suddenly become more difficult .The final mile, which brings you to the end of the trail , and the scenic overlook of the canyon , is quite strenuous ,and the elevation by this time has increased substantially.This trail,which could take up to 5 hours to hike (if you stop frequently to take snapshots),is "not for softies" .It is for those who enjoy a long and challenging hike .If you are an inexperienced hiker ,this trail is not for you .The " Northrim Campground " ,which sits alongside the rim of the canyon , is quiet and is fairly shaded with picnic tables .It is primitive & seems best suited for tent camping.